Comprehensive occupational health clinic services to meet the medical needs of your business
We at Medical Center of Marin are aware of the high cost of insurance and industrial medical care facing employers and business owners today in Marin County, CA.
It is necessary for our health clinic to work closely with both the employer and injured employee after an injury. When this works, costs are kept down and the best quality treatment and care is provided.
Working together keeping your employees healthy!
When you work with our Medical Center of Marin Occupation Medicine Clinic, you have all of your occupational medicine needs covered. Industrial injuries receive priority and employers are immediately provided with an online work status report to keep them updated of the employee's prognosis. Each of these work status reports states any modifications and estimates the employee's time to return to full or modified duty.

We also offer a full range of post-offer/pre-placement physicals. These occupational medicine physicals are compiled according to job description and the needs of the employer. At Medical Center of Marin all of our physicians are DOT Certified according to the National Registry guidelines. We have a Certified DOT Trainer on staff and all medical assistants are DOT Urine Drug Screen and Breath Alcohol Test Collection Certified.
Our Marin County physicians understand occupational medicine and the need to fit prospective employees with appropriate functional job requirements and screen them carefully for any condition predisposing the individual for a particular type of injury.
Workers' Compensation program benefits:
Prompt treatment of work-related injuries and illnesses
Timely and consistent communication and reporting including online access to work status reports
Electronic Medical Records (EMR/HER) system
An employer web portal
Medical Center of Marin is a full-service Occupational Medicine clinic so your employees can spend less time going to multiple specialty providers in and around Marin County, CA.
Occupational medicine and surveillance program benefits
Tacking, reporting and notifications for employer surveillance programs using our Electronic Medical Records software.
Physical exams, including DMV/DOT, post-offer, Level 5 and any customized physicals your company may require
CAL OSHA mandated testing
Drug screening/substance abuse testing through Certified Labs
On-site Instant Substance Abuse Screening using eScreen™, with results being available immediately via a secure website
Breath alcohol testing
On-site laboratory and screening services
Additional lab/screening services through our partnership with MedTox—results are imported electronically the moment the results come available at MedTox to Medical Center of Marin's EMR. These records are stored there in the patient's file record for fast, safe, secure and convenient access.
Immunizations and vaccinations
Pulmonary function testing
On-site pharmacy
Audiometry
Respirator clearance exams
Post-offer physicals
Fit testing
On-site digital X-ray, chiropractic and physical therapy
Staying informed of your employee's progress is vital to your business' operation and budgeting.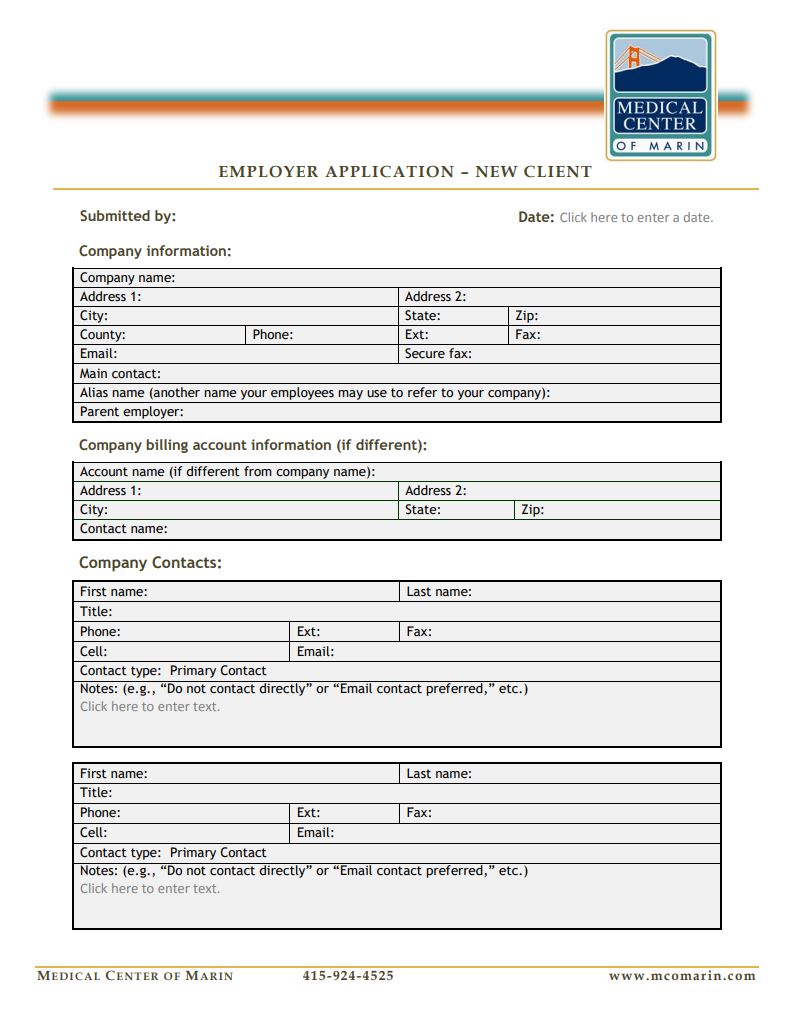 Workers' Compensation program benefits:
Please download this PDF
Fill out the PDF form (the PDF is fillable)
Submit to Medical Center of Marin by using the Submit button at the top of the form.
It will automatically use your default email app and send to us. Thank you.
**NOTE: Firefox & Chrome Users: Please right-click and "Save As…" to download the form to your computer. From there, please open the file in Adobe Reader to complete the form and submit.