Working together keeping your employees healthy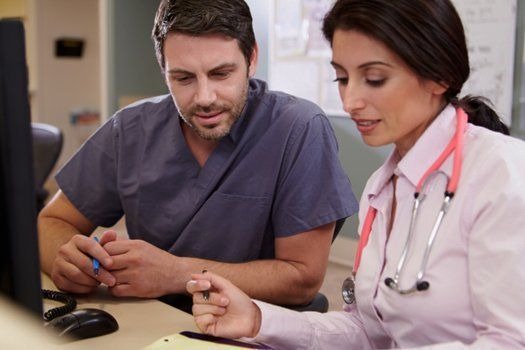 Occupational Medicine Services
When you work with our Medical Center of Marin Occupation Medicine Clinic, you have all of your occupational medicine needs covered. Industrial injuries receive priority and employers are immediately provided with an online work status report to keep them updated of the employee's prognosis. Each of these work status reports states any modifications and estimates the employee's time to return to full or modified duty.
We also offer a full range of post-offer/pre-placement physicals. These occupational medicine physicals are compiled according to job description and the needs of the employer. At Medical Center of Marin all of our physicians are DOT Certified according to the National Registry guidelines. We have a Certified DOT Trainer on staff and all medical assistants are DOT Urine Drug Screen and Breath Alcohol Test Collection Certified.
Our Marin County physicians understand occupational medicine and the need to fit prospective employees with appropriate functional job requirements and screen them carefully for any condition predisposing the individual for a particular type of injury
Workers' Compensation program benefits
Prompt treatment of work-related injuries and illnesses
Aggressive return-to-work philosophy
Timely and consistent communication and reporting including online access to work status reports
Electronic Medical Records (EMR/HER) system
An employer web portal
Medical Center of Marin is a full-service Occupational Medicine clinic so your employees can spend less time going to multiple specialty providers in and around Marin County, CA.